Biohazard Remediation
We assist individuals and municipalities with dangerous biohazard remediation associated with meth labs, animal feces, trauma situations, crime scenes, and more.
Biohazard Remediation
We assist individuals and municipalities with dangerous biohazard remediation associated with meth labs, animal feces, trauma situations, crime scenes, and more.
Biohazard Cleanup
If your property has been affected by a biohazard event, like the existence of a meth lab, a trauma situation, a crime scene, or the presences of animal feces, the cleanup and biohazard remediation requires highly specialized expertise. X-Cel Restoration has the experience and professionalism that is required to safely clean and restore your property to its original condition. What's more, our team is trained to display the highest levels of empathy and respect for all involved in the situation. We will treat you and all involved in a manner that helps you navigate the difficult circumstances.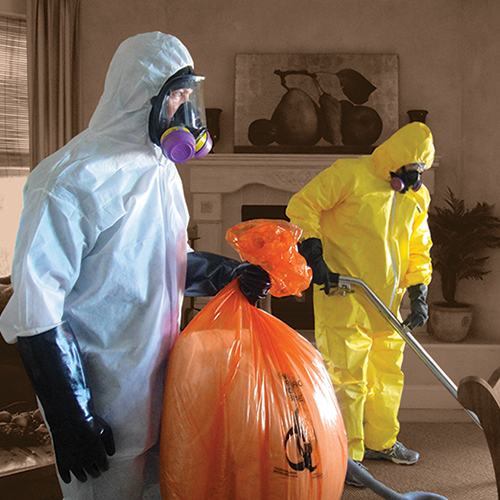 Biohazard Compliance
As it relates to events that involved biological and chemical contaminants, also known as biohazards, it is critical to maintain compliance with local, state, and national government, health, and environmental regulations. Our professional team is trained to handle cleanup and sanitization of crime scene and trauma scenes in a safe and legal manner. We will clean and sanitize all contaminated surfaces, remove unsalvageable materials, and execute a proper restoration that returns your property to a safe and habitable condition.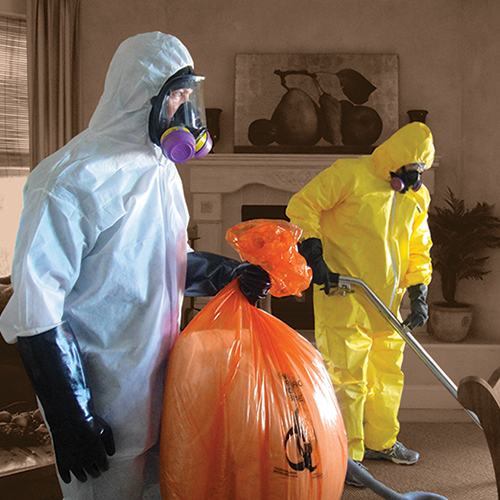 Biohazard Remediation Process
Crime Scenes
Our certified technicians are trained in specialized cleaning processes that remove viral and blood-borne pathogens, fingerprint powder, and other chemical residues that are often present at crime scenes.
Meth Labs
The production of methamphetamine and other illegal drugs utilizes volatile chemicals that can leave harmful residues on all types of surfaces. We follow all state and federal guidelines to ensure that your property is thoroughly cleaned.
Animal Feces
A property affected by animal feces can represent a danger to the health of all occupants. It is of critical importance to safely remove all such hazardous materials, and provide a complete cleaning and sanitization.
What to Do
• In the event of any biohazard emergency, immediately contact emergency personnel.
• Stay clear of all affected areas in order to avoid the presence of dangerous chemicals or residues.
• Assume that everything is contaminated. Do not touch any solids or fluids present at the scene.
• Do not attempt to clean anything. Leave this to the professionals at X-Cel Restoration.
Why Choose X-Cel Restoration?
We are a Better Business Bureau A+ Rated Company 

We Provide 24/7 Live Operators

We Feature a 60-90 Minute Response Time

We empty uniformed, Drug Tested & Background Checked Professional Technicians

We Bill Directly to Insurance Companies
Contact Us
A crisis can happen at any time, which is why we offer emergency service 24 hours a day, 7 days a week. Whether a minor or major disaster resulting from water damage, fire damage, mold damage, or storm damage, our expert team is ready to respond. We will identify the problems at your home or business and steer you through the repair and restoration process.
If you are facing an emergency, contact us within 24 hours of the first sign of damage. We will provide the professional services required to execute the repairs and restoration and prevent further damage from occurring. What's more, we will work directly with your insurance company and help you make informed decisions that will result in the best possible outcome.